Fees
The CRRS team feels strongly that getting help for endo pain and infertility shouldn't cause crushing debt. At the same time, restorative surgery can take many hours of delicate and painstaking effort. Insurance reimbursement for this work is poor, because companies don't appreciate the value of an excision approach to endo. Therefore, CRRS does not contract with any insurance companies to cover fees: we are not in-network with any plans.
This does not mean we don't accept insurance! We will bill your carrier and help you appeal denials for out-of-network coverage, should that happen.
Our approach to payment is unusual, but we think it's fair, and we strive to be transparent.
Here's how it works: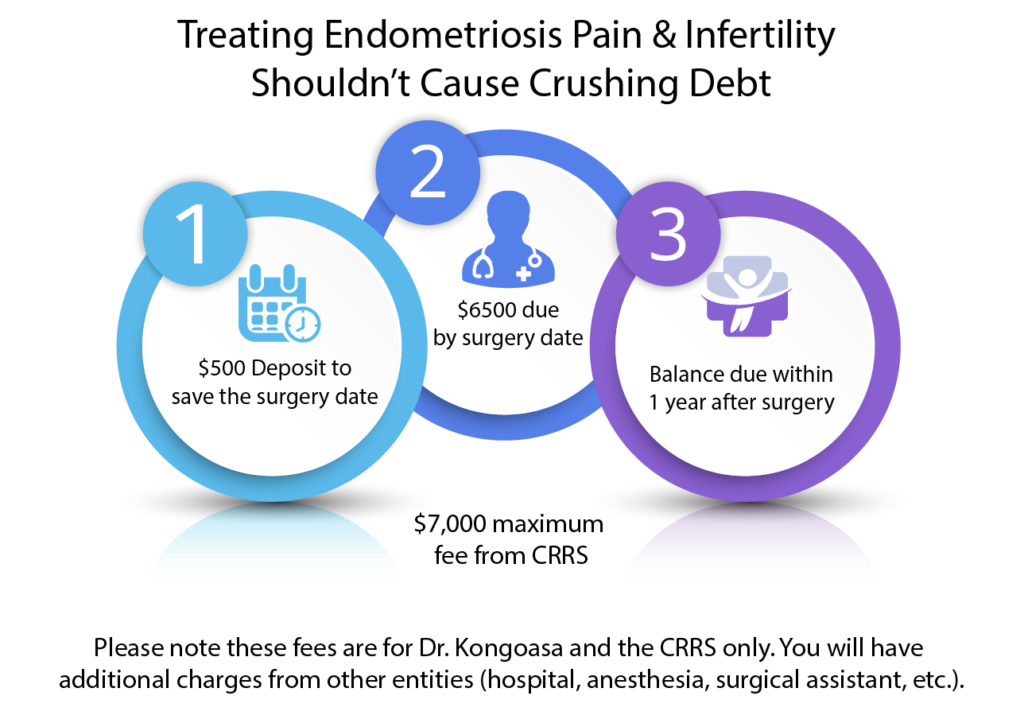 When you schedule surgery, you pay a $500 deposit to secure your date. Between scheduling and surgery, you pay an additional $6500 fee.
Your out-of-pocket responsibility for our fee is capped at $7,000, no matter how complex the surgery is.
Office consultations are billed at $250. This amount will be deducted from the surgery fee if surgery is scheduled within 90 days of the consultation. Your pre-op and post-op visit fee is included as part of the surgery cost, and there is no additional charge for it.
Dr. K operates at Northside Hospital in Atlanta.
To further help our patients, we offer 6 or 12 months interest free financing through CareCredit. 
We always strive to work with our patients regardless of their financial circumstances. So reach out to us and we'll be glad to help.